Our Story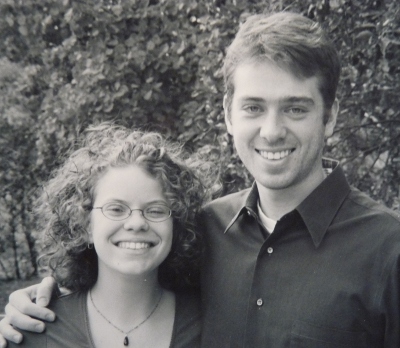 ACCORDING TO HIM...
---
I still remember the first time I saw Nikki. It was a beautiful night at the Super Walmart in Rockford. She was walking into the store with Brian while I was walking out. Lucky for me her friend Brian is also one of my best friends. We were briefly introduced. Even though I only talked to her for a minute, she made quite an impression. "Just look at that curly hair", "What a wonderful smile", "She punched Mark just like the rest of us do". It was clear that Nikki was like "one of the guys" when it came to joking around with our friends and putting up with our antics (which is a rare trait indeed).
Unfortunately for me I didn't get to stay to learn more about Nikki. I was on break from college in Indiana and Nikki was in college in Illinois. The only time I got to see her was on breaks from school. Thankfully Nikki and I had many close friends in common so our paths crossed from time to time. Despite the fact that we lived 300 miles apart and only saw each other every few months we still managed to continue to get to know each other better.
This went on for about a year before our high school buddies Mark and Andrea had a birthday party in Iowa. As with any good college student, a couple states were not going to get in between me and a good party so I jumped in the car with Casey and we started the pilgrimage. We finally got to Iowa at about 8 PM, barely over the fashionably late boundary. As soon as I walked in the apartment amongst the mass of people I saw Nikki. I had no idea she was going to be at this party! I was ecstatic. Sure I was happy to see her, but I was more happy to see that she was willing to drive from Illinois to Iowa just for a party. Maybe she would be willing to try a long distance relationship with me in Indiana.... hmm...
Now all I had to do was make the first move. Any guy will tell you this is not as easy it seems. It certainly was not easy for me either, although a few glasses of liquid courage helped with that. I remember the exact moment well. She and I were both outside on a cold winter night waiting for Brad to get something out of his car. Nikki looked cold so I offered her my jacket. She refused so instead of giving her my jacket I put my arms around her to keep her warm. We made eye contact and in that moment I realized I didn't need to verbalize all those suave dating lines I had been thinking of all night. Instead we just stood, holding each other in the quiet winter night.
I got her phone number before we parted ways after the party. When I got back to Indiana I anxiously called her number, hoping that she had given her real number. The phone rang and Nikki answered... and the rest is history.
THE AUTHORITATIVE VERSION, BY HER...
---
The first significant memory I have of Jonathan takes place in the basement of his parent's house in November 2002. We gathered that night while everyone was back in town for Thanksgiving break; there were at least 15 people crammed in on the couch and floor, plenty of beer and the scent of Taco Bell in the air. Someone had just gotten a new racing game for the Xbox and of course everyone was competing for a chance to play. Jonathan invited me to sit with him on the couch and share a controller for the game (I worked the gas pedal and he steered – which actually worked surprisingly well). We were a great team and I was very reluctant to give up my space squeezed in next to him. Truth be told I was smitten right away, despite the fact that I knew very little about him!
After a few more group gatherings with mutual friends - and one very special night in Iowa - I finally managed to get his number before he left to go back to his college in Indiana. Our respective colleges being in completely different states could have been challenging but we were determined to make it work. Jonathan and I spent a lot of time getting to know each other over many late night telephone calls and his frequent visits back to Rockford. By Valentine's Day I knew that Jonathan was the man I wanted to marry; so I set out to convince him of the same.
In June 2003, I transferred colleges which lessened the distance between us from 213 miles (4.5 hours!) to 45 miles (phew, only 1 hour!). We were still "long distance" but we were able to see each other every weekend which was a definite improvement. I always loved getting out of class on Friday afternoon and seeing him come up Edgar Avenue on the motorcycle for a weekend visit or driving my car to Terre Haute to eat Fajitas Fundidas at La Isla (our favorite restaurant).
In 2004, Jonathan graduated (a year ahead of me) and accepted a job in Baltimore, Maryland. It was difficult to see him go but after already having spent the first two years of our relationship in different cities, Baltimore really didn't seem too bad! And it wasn't … Baltimore was just a two hour flight from Indianapolis so it was easy to continue making frequent visits and we certainly continued to spend those free cell phone minutes on even more late night phone calls. That year flew by and before I knew it I had a diploma in one hand and a boarding pass in the other, on my way to my new hometown of Baltimore!
I'll never forget walking into Jonathan's apartment that first night, this place that was my new home. It was bittersweet really; I had gone so far from my family and everything I knew … except for this man that I had spent the last three years chasing across the country. When the door opened that night I was greeted with banners and streamers, balloons and cake; just the two of us stood there under the "Welcome Home" sign he hung in preparation for my arrival, it was sort of a magical moment (as corny as that sounds).
We've moved from the apartment since then but I've never felt closer to home than when Jonathan is holding my hand. It did take him another three years to finally get around to "popping the question" but I wouldn't trade those six years for anything (… except for maybe getting married earlier).