Croatia!

FAQ
---
Where in the world is Croatia?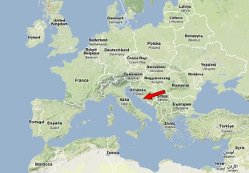 Croatia is located in southern Europe. You can find Croatia across the Adriatic Sea, just opposite Italy. (Click the map to see it larger.)
Why Croatia?
Why not? Seriously though we really just wanted to go somewhere different … somewhere that neither of us had ever been to before. We also wanted to travel to a place that offered more than just lounging on a beach or touring a city – Croatia turned out to be a great option because it has both!
Where in Croatia are you going to be?
Well, Croatia is an entire COUNTRY… so it's going to be hard to choose. We would really love to visit the walled city of Dubrovnik and the Dalmatian Island Coast; but Split is supposed to nice also.
Split?
Yeah. Split is the largest Croatian city on the Adriatic coast. … It became a popular retirement destination in the 4th century for Roman Emperors such as Diocletian, who had run out of Christians to feed to his lions. Sounds great, right?
Speaking of feeding the lions – any idea what the food is like?
Oh my! Please check this brochure out for more information! (PDF viewer required)
What can you do in Croatia?
Croatia offers a lot of fun outdoor activities like hiking and kayaking which we would like to take advantage of; it also offers a lot of beautiful natural and manmade scenery like Dubrovnik and Trakoscan Castle.
What's the weather like?
Beautiful, usually around 70 degrees in June (when we'll be there!).
What currency do Croats use?
Kuna and Lima. And if you have any we'll gladly spend it for you!
Croatia sounds cool, can I go?
No.